Recently I had the opportunity to sail onboard Figaro 3 "Océan Attitude" with renowned French yachtsman Franck Cammas (you can read about my experience here). And I was also lucky enough to meet with Mohammed Al Mujaini, one of Oman's best-known offshore sailors. He and Franck Cammas are now going to work closely together as Franck has just "joined the Oman Sail team to manage their ongoing Diam and new Figaro campaigns next year" (more information about it here). I asked Mohammed Al Mujaini "Momo" to answer a few questions for me: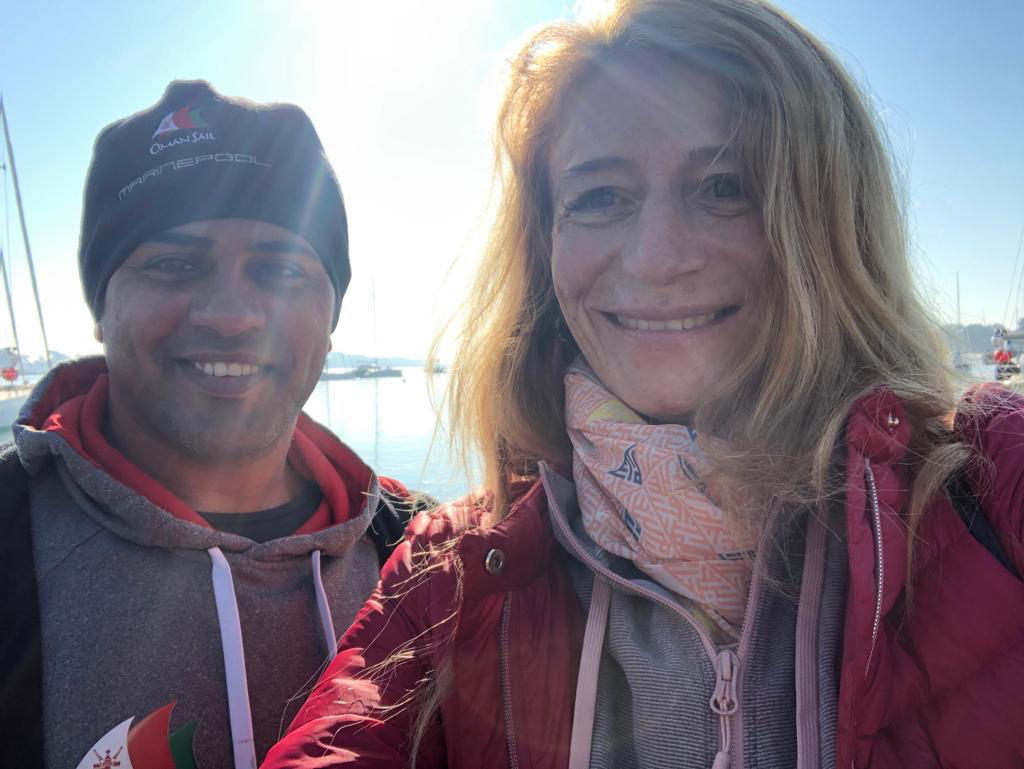 Mohammed Al Mujaini, Omani sailor, and Marie-Laure Boulot, creator of Océan AttitudeWhat is Oman Sail?
Oman sail is a govermental company that provides long-term learning opportunities for the youth of Oman.
What is the objective of Oman Sail?
Our initial objectives were to establish Muscat as a regular destination on the global sailing circuit by hosting international sailing races in Omani waters. These objectives have been quickly achieved. Each year, professional sailors from around the world come to Oman to compete and Omani teams to represent the Sultanate at prestigious international events in the Ministry of Tourism's priority markets, increasing tourism revenues and showcasing the natural beauty and hospitality of Oman through international media coverage.
What is your goal?
My goal is to do a lot of races worldwide as well as to enter the Volvo Ocean race , which would then make me the first Omani to enter this race.
Are there any women sailors in Oman?
Yes there are! Our pioneering women sailors competed in Europe for the first time, while Raiya Al Habsi made history by becoming the first Arab woman to compete in the classic Fastnet race and becoming the first Arab ever to be nominated for the prestigious Rolex World Sailor of the Year Award.
How do you feel as a Figaro Bénéteau 3 sailor?

I feel amazing and proud of myself. I managed to reach this stage after sailing for 10 years so I'm really proud. It is going to be a huge step for me to learn how to sail solo now. It is a challenge to learn and manage everything onboard alone; mapping, dealing with injuries, any mechanical problems, etc.
What adviced would you give to me, a beginner?
Go ahead! You're so lucky to have this opportunity and this chance happens only once in a lifetime. But you will have to be very considerate about your health in terms of sleeping, eating, and doing sports. You also have to do sailing on a daily basis if you want to improve and get good at it.
What is your vision about Océan Attitude?
It is very interesting. I support the awareness campaign and the idea that we need to protect the oceans, of course.
>> If you want to find out more about Oman Sail, just visit www.omansail.com